Since George's WSOP season is going so well (NOT) and there is not much poker news to report, I thought you all might like to see what Cooper has been up to here in Vegas while his dad is busy grinding.
I get asked all the time, "Just what do you do in Vegas for 6 weeks?"  Well, we rent a house and go about our usual business.  Breakfast, gym, lunch, nap,snack, play/groceries/errands/whatever, dinner, bath, bed.  Just a change of scenery, that's all.  Besides Vegas humors me.  Where else can I go to the gym and find the aerobics instructor in skintight, leopard spandex?  Or drive to the store and pass a cop pointing a gun at someone running away? Or sit at the intersection with the other 3 directions of traffic because NONE of us have a green light.  I don't believe I have encountered another city that paints new lanes on the freeway without taking away the old ones.  Seriously, what is that?
Anyway, we were talking about what Cooper does.   He invites George's family to spend the weekend with him.  This is Cooper and his cousin, Xander, playing.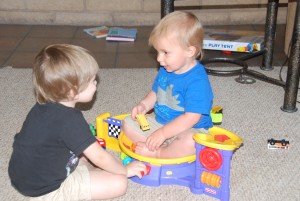 George's brother…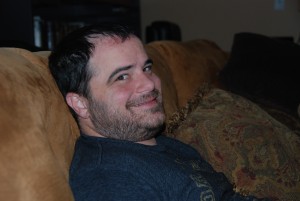 His mom and stepdad….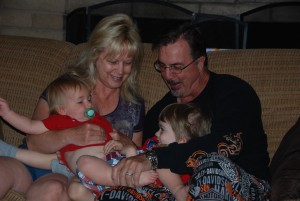 While waiting for George's dinner break, we took the kids to The Mirage to see The Secret Garden and Dolphin Habitat.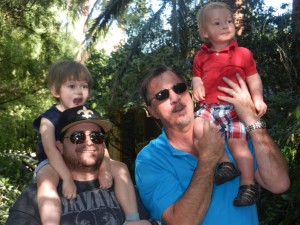 Also, Cooper feeds Peanut snacks.  Peanut is a highly protective (read: jealous) dog.  When Cooper first joined us, Peanut exhibited quite a bit of aggression toward him.  So much that we thought Peanut would need a new home.  But with the help of a trainer, Peanut has reluctantly learned to love Cooper – most of the time.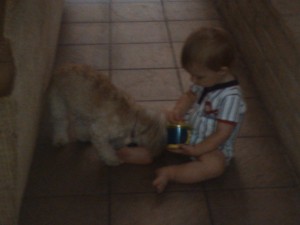 As you can see, Cooper spends much of his time just being cute.  Just look at that mug – who wouldn't love him?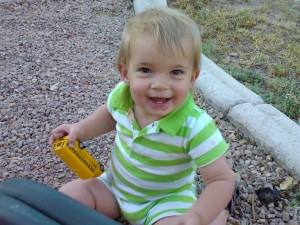 Actually, we do have some poker news.  George received his SCOOP watch the other day for winning one of the Stud 8 tournaments back in May.  I have known my husband for at least eight years and have never seen him wearing a watch until today.
What happens when he wins a second one?  Does he wear both?  One on each wrist?
Mr. Cooper Goes to Vegas

,